ARCHIVED - Final Audit Report of the TransCanada Third Party Crossings Program - Appendix II - Maps and System Descriptions
This page has been archived on the Web
Information identified as archived is provided for reference, research or recordkeeping purposes. It is not subject to the Government of Canada Web Standards and has not been altered or updated since it was archived. Please contact us to request a format other than those available.
Appendix II
TransCanada Pipelines Limited and NEB-regulated Subsidiaries (TransCanada)
Maps and System Descriptions
TransCanada PipeLines Limited and its subsidiaries included in the scope of this audit included specifically:
TransCanada PipeLines Limited;
TransCanada Keystone Pipeline GP Ltd.;
Trans Québec & Maritimes Pipeline Inc.;
Foothills Pipe Lines Ltd.; and
NOVA Gas Transmission Ltd.
These subsidiaries hold the certificates for TransCanada's NEB-regulated facilities, which include the Canadian Mainline, Keystone Pipeline, TQM Pipeline System, Foothills System, and the Alberta (NGTL) System.
Figure 1: Canadian Mainline
The Canadian Mainline, shown in Figure 1, is a 14,100 km natural gas pipeline that extends from the Alberta/Saskatchewan border east to the Quebec/Vermont border and connects with other natural gas pipelines in Canada and the United States.
Figure 2: Keystone Pipeline
The Keystone Pipeline, shown in Figure 2, is a 1,251 km pipeline that transports crude oil from Hardisty, Alberta to the Manitoba/North Dakota border. The Keystone Pipeline continues into the United States.
Figure 3: TQM Pipeline System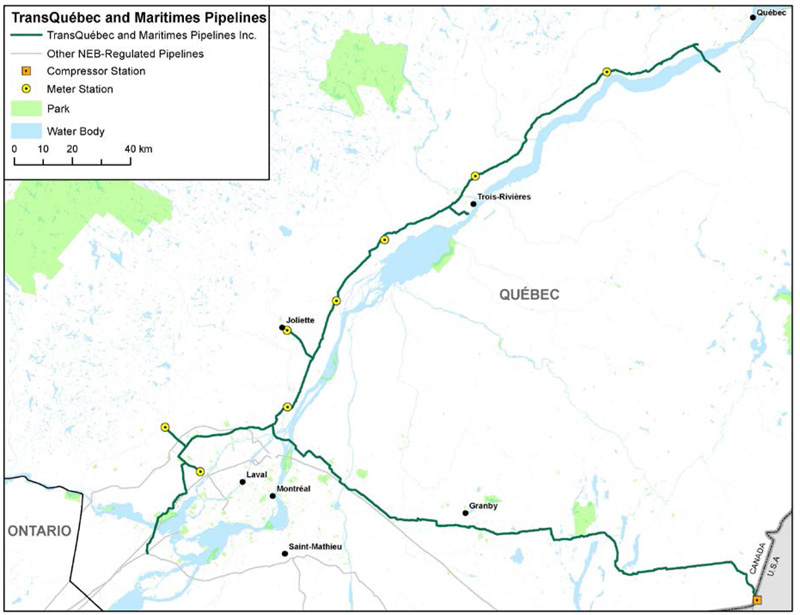 The TQM Pipeline System, shown in Figure 3, is a 573 km natural gas pipeline network in the Province of Quebec between Saint-Lazare, located west of Montreal, and Saint-Nicolas, located on the South Shore of Quebec City, and between Lachenaie, located East of Montreal, and East Hereford on the New Hampshire border.
Figure 4: Foothills System
The Foothills System, shown in Figure 4, is a 1,046 km natural gas pipeline system which carries natural gas from central Alberta to the United States.
Figure 5: Alberta (NGTL) System
The Alberta (NGTL) System, shown in Figure 5, is a 24,828 km natural gas system which gathers natural gas for use within the province of Alberta. It delivers to provincial boundary points for connection with TransCanada's Canadian Mainline and Foothills natural gas pipelines and with the natural gas pipelines of other companies.
Date modified: