Market Snapshot: Atlantic offshore oil production and the Law of the Sea
Release date: 2019-03-06
On 26 July 2018, Newfoundland and Labrador announced a development agreement for the Bay du Nord oil discovery in the Flemish Pass basin, located about 500 kilometres (km) offshoreFootnote 1 (see map below). This development agreement is notable because the Flemish Pass Basin is outside Canada's 200 mile nautical limit (370 km). Article 82 of the United Nations Convention on the Law of the Sea (UNCLOS) states that Canada would need to pay royalties to the International Seabed Authority for producing oil outside the nautical limit.Footnote 2,Footnote 3,Footnote 4
Oil Production in Canada's Atlantic Ocean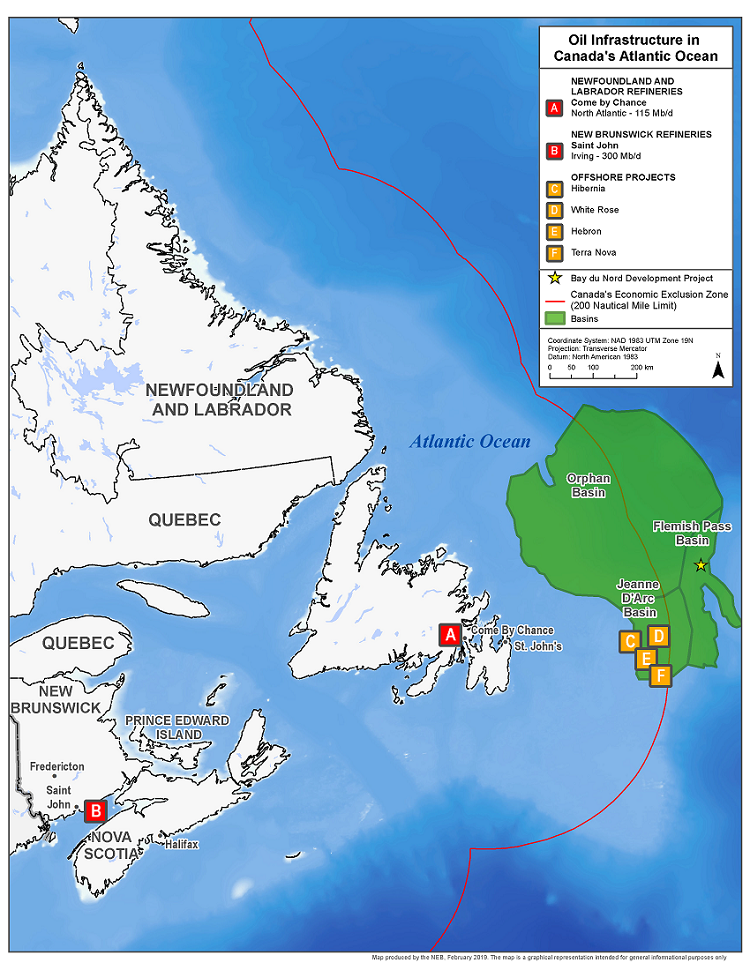 Source and Description

Source: NEB

Description: This map illustrates the location of Canada's Economic Exclusion Zone (EEZ) (200 Nautical Mile Limit). Basins: Flemish Pass Basin and Orphan Basin. Bay du Nord project. Refineries: Come-by-Chance Refinery (115 thousand barrels per day (Mb/d)), and Saint John Refinery (300 Mb/d). Oil fields: Hibernia, White Rose, Hebron and Terra Nova.
Discovered in 2013, Bay du Nord is expected to begin development in 2020 and would start producing oil in 2025. Not only does Bay du Nord have estimated oil reserves of nearly 300 million barrelsFootnote 5, but the project could be the first oil and gas development in the world where UNCLOS royalties would need to be paid. It is not clear yet who pays the royalties: governments or the companies.
Four offshore production platforms are already located roughly 350 km away from St John's, approaching the nautical limit (see map). In April 2018, BP Canada was granted an approval to drill an exploration well 300 km offshore from Nova ScotiaFootnote 6. BP Canada has also applied to drill a well in the Orphan Basin, 350 km east of Newfoundland.
Under UNCLOS, no international royalties are due during the first 5 years of oil production. Annual payments of 1% begin after the 6th year of production and increase by 1% per year until the 12th year. Thereafter, payments remain at 7%. The International Seabed Authority will distribute payments or contributions-in-kind to other UNCLOS member countries.
Date modified: